A Note about Our Staff
We pride ourselves in responding to and handling our customers' concerns immediately. This is due to our staff of professionals which include:
Cheryl Weaver - Sales Manager
Cheryl Weaver is another outstanding associate that has been with our organization since 2005. Cheryl's responsibility is servicing and selling national retail stores located in Atlanta and North Georgia. Cheryl brings experience from a variety of areas including retail kitchen sales and kitchen design. Cheryl Weaver has been nominated for Thomasville Sales Representative of the year 3 times in the last 4 years.
Mike Wilson - Operations Manager
Mike Wilson is an outstanding associate that has been with our organization since 2004. Mike services national retail stores located in Central and South Georgia, along with the Florida Panhandle. Mike has a great deal of experience in the cabinet industry, from manufacturing to retail sales. Mike Wilson was the Thomasville Sales Representative of the year for MasterBrand Cabinets in 2008.
Joshua Wilson
Joshua Wilson is a new associate with Todd Haley & Associates starting May 15, 2011. Joshua's past work experience will be a huge benefit servicing a new market for our team. Joshua's past experience included being a designer with Home Depot for over six years where he won numerous awards for customer service and sales. Joshua took the steps to open and manage a cabinet division for a local lumber supply for 2 years. Both of these experiences have given Joshua a great deal of knowledge and understanding of the Kitchen & Bath Business. Joshua will be responsible for servicing and growing our customer base in Alabama and Mississippi.
Thomas Clarke
Thomas Clarke CKD is a new associate with Todd Haley & Associates starting May 18th 2015. Tom was awarded his CKD after passing testing for it at KBIS in New Orleans in 2013. Having worked in residential construction and remodeling in different capacities since 1987, Tom began working as a kitchen & bath designer in 1999 for The Home Depot. After 6 years he accepted a position with a locally owned retailer which sold several of the MasterBrand lines. While with this firm Tom helped with the design of two showrooms and served as the lead designer responsible for training new designers. Tom began private design consulting in 2009 and became involved with the local NKBA Chapter as a volunteer. He has served as VP of Academic Relations and has held the position of VP of Professional Development since 2011. Tom will be responsible for servicing our customer base in Louisiana, Mississippi, Alabama, and the Florida Panhandle.
Clare Yeadon
Virginia/North Carolina Territory. Clare joins Todd Haley with 16 years of experience in media sales and more recently as a marketing management consultant in the countertop industry. She possesses a degree in marketing communications and is a certified yoga instructor in her part time. Clare is very task oriented and service focus to help each of her clients to be successful with her products. Clare brings a positive energy everywhere she goes and makes a strong addition to the Todd Haley & Associates sales team.
Ginny Edens
Ginny started with Todd Haley and Associates in February 2012. She brings 17 years of experience in the Kitchen and Bath industry, plus a Bachelor of Science in Interior Design from Georgia Southern University. Her professional resume includes Kitchen and Bath Specialist at a national Home Center, design and sales with independent kitchen and bath dealers, sales and measuring with a custom solid surface and stone fabricator, and Showroom Manager for a kitchen and bath dealer. She currently fills the role of Office Support for Todd Haley and Associates.
Ami Holley
As of March 2013, Ami Holley is the newest member of the Todd Haley & Associates team. She has over nine years of years of experience in the kitchen and bath industry. Her previous experience included servicing a multitude of customers that ranged from individuals, builders, Home Centers, Kitchen and Bath dealers and fabricators. Ami will be involved in servicing and expanding our reach in the North and South Carolina market.
Angeline Hannachi
Angeline Hannachi is a new associate with Todd Haley and Associates starting August 12, 2013. Angeline will be covering Northern Virginia. Angeline's past kitchen design and project management experience will be a great asset to our team. Prior to coming on board she worked at a large full service remodeling firm in Northern Virginia for 5 years where she helped launch their kitchen and bath design showroom and oversaw many beautiful full scale kitchen and bathroom renovations. Prior to transitioning into the kitchen industry 8 years ago, Angeline was a marketing and production designer for an industrial sign company which, interestingly enough, produced signage for the Home Depot. With literally a lifetime's worth of design experience Angeline brings a wealth of knowledge, skill and experience to the table. Angeline will be responsible for growing and servicing our Northern Virginia and DC markets.
Paul Cunningham
Paul Cunningham joined Todd Haley & Associates on September, 23, 2013. Paul brings 32 years experience in the Kitchen and Bath Industry. His past experience includes 10 years working in the wholesale channel as Department Administrator and Sales Manager, 4 years as Operations Manager for a custom design showroom and 18 years in retail design, sales and project management for custom, semi-custom and stock cabinetry. Paul's vast experience will be a valuable asset to our team. Paul will be responsible for servicing and growing our Tennessee, Kentucky and West Virginia markets.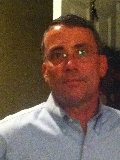 A Note From Todd
Hello! Thank you for visiting my web site. For the last 20 years, I have been involved in the kitchen industry as a partner in a kitchen dealership and as a sales rep working directly for a manufacturer. With this knowledge and experience, I started a multi-line agency in 1997 serving Georgia, Alabama, and the Florida Panhandle. In the past 16 years, I have represented several brands from MasterBrand Cabinets and serviced different channels of distribution. I am proud that I have consistently represented one industry leading manufacturer with portfolio of products that best meet my customer's needs. Since 1997, we have expanded and have taken on more channels and brands for MasterBrand Cabinets and we have taken on more geography. We are now also responsible for servicing Mississippi, Kentucky, Tennessee, Louisiana, South Carolina, North Carolina, Virginia & West Virginia for certain channels of distribution and MasterBrand product offerings.
It is my belief that by helping you to achieve your business goals that we will succeed along with you. I focus on my customer's success and profitability, not just product! At Todd Haley & Associates, we can help you develop marketing and business plans as well as sales plans.
I would appreciate the opportunity to help you in any way. Give us a call!